Purple-tinged hair products are becoming increasingly popular. A purple shampoo on dry hair works as a magic wand, turns brassiest, dull blonde hues into vibrant shades of gold. Infused with purple pigments, a purple shampoo prevents your hair from becoming more yellow and brassy. A brand like B Uniq Blonde Hair Purple Shampoo can take your dry hair day and turn it into your best hair day.
Although you can visit the hair salon every other week to refresh your hair color, you will have to spend more time and money. Fortunately, purple shampoo is no less than a lifesaver for you, since it keeps the color you paid for intact for longer. Furthermore, purple-tinged hair shampoo is great for prolonging your color.
The Brand New Way of Using Purple Shampoo: Applying it on Dry Hair

Even after using an entire bottle of your purple shampoo, you may not get the desired result. Reason? You are not doing it properly. You end up using the whole bottle and find that your tresses are not still toned. So, what you need to do is opting for the most appropriate and effective method.
A perfect way of using purple shampoo is applying it on your dry hair. Regardless of the hues, this technique covers all your tresses and makes them beautifully vibrant.
Nevertheless, if your hair is noticeably brassy and needs intensive color correction, or if you have light tresses, applying purple shampoo on your dry hair as a toner is a great idea to fix your unattractive color.
However, if you are using purple shampoo to tone your hair regularly, you will want to apply it to wet hair as part of your normal wash routine.
Also, it is important to mention here that most purple shampoos you find in the market either give bright results or leave a kind of a rose tint. Therefore, choose the best product for your hair. Not to mention, a high quality product accompanied with the technique of applying it on your dry hair will give you luminous blonde hues. There will be no hint of brass neither it will look too dull or flat.
Best Purple Hair Shampoo
B Uniq Blonde Hair Purple Shampoo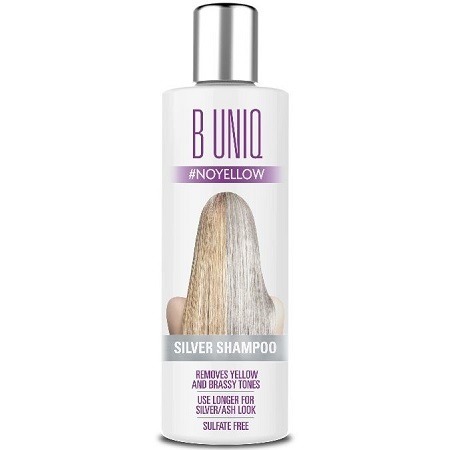 How to Apply Purple Shampoo to Your Dry Hair
People commonly use a purple shampoo in the shower. They apply and leave it for about 5 minutes and rinse it out. However, this shampoo works better when applied on dry hair.
Some parts of your hair may not get effective results and remain light and brassy. This is probably because you may not apply it properly. However, using the shampoo on dry hair allows you to apply it more cautiously while covering every part of your tresses.
When it comes to using purple shampoo on your dry hair, you first need to do some preparation. First, place a towel or a piece of cloth over your shoulders. Then, comb your hair to untangle them and divide them into sections. Once you do so, tie every section in a ponytail.
Take a good amount of a purple shampoo into your palms and start applying it on the roots. Make sure to cover your hair length well. Since your tresses will be dry, they will not have water filling up the spaces between your cuticles. This is the major reason your violet shampoo will penetrate better in your tresses, giving them the desired color.
Once you apply purple shampoo on your dry hair, leave it for about 8 minutes, and hop into the shower to rinse it off.
Check out our full purple shampoo review.
How Frequently Should You Use A Purple Shampoo on Dry Hair?
Using purple shampoo every single day or leaving it on your hair for too long will stain the hair, leaving a dreary color. Although the manufacturers refer to these products as shampoos and conditioners, they are not suitable for daily use. In addition, if you use a purple shampoo more frequently, your tresses will eventually build up immunity to the pigment.
A purple shampoo does not replace your regular shampoo. Do not forget that purple shampoo keeps your blonde hues refresh and vibrant. Use it only once or twice a week and not more than that.
Some hair experts suggest you can mix a purple shampoo with your regular shampoo. This will not make you go overboard and allows you to add some purple pigment into your regular hair cleansing routine.
Does Purple Shampoo Only Work for Blondes when you Use it on Dry Hair?
Well, this is the first question that might come to your mind. Surprisingly, a purple shampoo not only works for blondes but also brunettes. Therefore, if you do not want warm shades in your tresses, you can use a purple shampoo for blondes to cool your hues down. Not to mention, the darker your hair, the more susceptible it is to brassiness.
Moreover, if your ombre looks a bit too warm, use purple shampoo. Similarly, if your chestnut hair looks a tad too red, wash your hair with purple shampoo. Therefore, whether you have blonde, platinum blonde, ashy blonde, silver, grey, white, or any lightened shade, the purple shampoo will work well on your hair.
In addition, if you have brunettes combined with highlights, this shampoo will help keep your color fresh and bright. Furthermore, a purple shampoo amazingly helps grey or white hair look glossy and pearly.
The Main Takeaway
Well, you will agree that keeping your hair from becoming yellow and brassy is quite difficult. Bright platinum blond tresses turn to faded orange, making your hair look unattractive. Not only this, while seeing your beautifully dyed blond hair turning into dreary, unappealing shades, you probably feel like all your time and money are going down the drain.
However, the good news is purple shampoo can prevent your blonde tresses from becoming light and yellow. While people usually use this shampoo in the shower, another brand new way of using purple shampoo will bring results that are more effective: applying it on your dry hair. Last, but not the least, use this shampoo not more than twice a week or else it will make your hair look darker.